Significant Cases
Conyers & Northover
Oral argument in the matters of: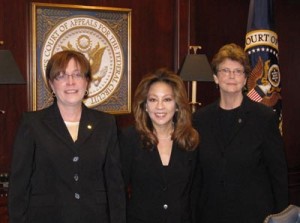 Rhonda K. Conyers v. Department of Defense MSPB Docket No. CH-0752-09-0925-I-1
Devon Northover v. Department of Defense MSPB Docket No. AT-0752-10-0184-I-1
Tuesday, September 21, 2010, at 10:00 a.m. The United States Court of Appeals for the Federal Circuit Room 201 717 Madison Place, N.W. Washington D.C.
Conyers and Northover raise the question of whether, pursuant to 5 C.F.R. part 732, the rule in Department of the Navy v. Egan, 484 U.S. 518, 530-31 (1988), limiting the scope of MSPB review of an adverse action based on the revocation of a security clearance, also applies to an adverse action involving an employee in a "non-critical sensitive" position due to the employee having been denied continued eligibility for employment in a sensitive position.
Decisions
Northover, Devon Haughton - AT100184I1 - Opinion and Order (12/22/2010)
Conyers, Rhonda K. - CH090925I1 - Opinion and Order (12/22/2010)
Federal Register Notices
FR Notice of Oral Argument in Conyers and Northover (9/15/2010)
FR Notice providing opportunity to file amicus briefs in Conyers and Northover (2/10/2010)
Press Releases
MSPB CONDUCTS FIRST ORAL ARGUMENT IN 27 YEARS Rhonda K. Conyers v. DoD and Devon H. Northover v. DoD (9/15/2010)
Relevant Documents
Oral Argument Audio (9/21/2010)
Oral Argument Transcript in Conyers & Northover (9/21/2010)
Stipulation Between the Parties in Conyers & Northover (9/2/2010)
DOD Response in Conyers to OPM Advisory Opinion and Amicus Briefs (5/18/2010)
Northover's comments to OPM Advisory letter (5/13/2010)
OPM Supplementary Information Letter in Conyers & Northover (4/20/2010)
OPM Advisory Opinion in Conyers & Northover (4/1/2010)
Northover Response to Supplemental DOD Narrative (3/11/2010)
Amicus Brief of the American Federation of Government Employees in Conyers & Northover (3/4/2010)
Amicus Brief of the Government Accountability Project in Conyers & Northover (3/2/2010)
Amicus Brief of the National Employment Lawyers Association in Conyers & Northover (3/1/2010)
Amicus Brief of the EEOC in Conyers & Northover (3/1/2010)
Amicus Brief of the National Treasury Employees Union in Conyers & Northover (3/1/2010)
MSPB Request OPM for Advisory Opinion in Conyers & Northover (2/4/2010)
DOD Supplemental Narrative Response in Northover (1/27/2010)
DOD Narrative Response in Northover (12/23/2009)
DOD Narrative Response in Conyers (10/12/2009)