Prohibited Personnel Practice 11: Violating Veterans' Preference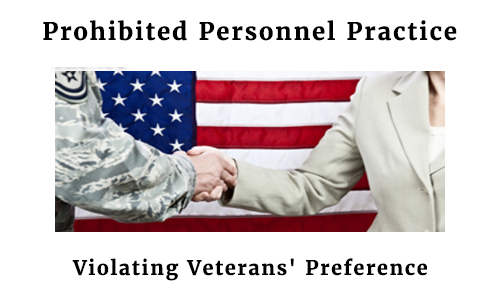 Any employee who has authority to take, direct others to take, recommend, or approve any personnel action, shall not, with respect to such authority—
(A) knowingly take, recommend, or approve any personnel action if the taking of such action would violate a veterans' preference requirement;1 or
(B) Knowingly fail to take, recommend, or approve any personnel action if the failure to take such action would violate a veterans' preference requirement;2
Where is this Prohibited Personnel Practice (PPP) found in the law?
This 11th PPP is set forth in subsection 2302(b)(11) of Title 5 of the United States Code. It was added to subsection 2302(b) by the Veterans Employment Opportunities Act of 1998 (VEOA), Public Law 105-339, §6. The VEOA permits individuals who believe their veterans' preference rights have been violated to appeal to the Merit Systems Protection Board (MSPB or Board) after review by the Department of Labor (DOL) has not resulted in corrective action. For a discussion of the Board's jurisdiction in VEOA cases, see Willingham v. Department of the Navy, 118 M.S.P.R. 21 (2012).
What is the purpose of 5 U.S.C. § 2302(b)(11)?
The VEOA strengthened and broadened the applicability of veterans' preference, Government-wide, in order to improve redress for preference eligibles. S. Rep. No. 105-340, at 14-18 (1998).
Subsection 2302(b)(11) reinforces the Government's commitment to protecting and preserving the rights of veterans by making it a PPP to knowingly violate certain veterans' preference laws, rules, and regulations. During the March 24, 1998 Senate hearing on VEOA, Senator Chuck Hagel, a principal sponsor of the legislation, stated that adding 2302(b)(11) to the list of PPPs would put "teeth" into the veterans' preference statute.
Further information about veterans' preference rights can be found on the Office of Personnel Management's website at https://www.opm.gov/policy-data-oversight/veterans-services/vet-guide-for-hr-professionals/ and DOL's website at https://www.dol.gov/agencies/vets.
What is MSPB's jurisdiction to review an alleged violation of 5 U.S.C. § 2302(b)(11)?
As with most PPPs, an alleged violation of section 2302(b)(11) alone is not a basis for MSPB appellate jurisdiction. Such a violation can be raised before MSPB only as an affirmative defense in a matter over which the MSPB otherwise has appellate jurisdiction. See Davis v. Department of Defense, 105 M.S.P.R. 604 (2007).
Does 2302(b)(11) cover all "veterans' preference requirements"?
No. As indicated in footnote 1, it includes only those requirements that are specified in 2302(e)(1). For example, 5 U.S.C. § 3304 (competitive examinations) is a statutory provision that is not specified in 2302(e)(1). Therefore, neither this statute nor its implementing regulations at 5 C.F.R. Part 337 (examining system) may form the basis for a claim that 2302(b)(11) has been violated. Ramsey v. Office of Personnel Management, 87 M.S.P.R. 98 (2000).
Does a statute's exclusion from 2302(e)(1) preclude a VEOA claim based on that statute? No. These are two separate provisions of law. Commission of a PPP under 2302(b)(11) is not necessary for a viable claim under VEOA. For example, an individual who believes that he or she was denied the right to compete for a vacancy under 5 U.S.C. § 3304(f) may pursue a claim under VEOA without alleging that the agency knowing violated one of statutes listed at 2302(e)(1). See, e.g., Walker v. Department of the Army, 104 M.S.P.R. 96 (2006) (failure to allow competition of veterans' preference candidate under 5 U.S.C. § 3304(f) violated VEOA despite 3304's exclusion from 2302(e)(1)).
May MSPB order corrective action based on a violation of 2302(b)(11)?
No. Interestingly, along with 2302(b)(11), VEOA also added subsection 2302(e)(2), which states that:
Notwithstanding any other provision of this title, no authority to order corrective action shall be available in connection with a prohibited personnel practice described in subsection (b)(11). Nothing in this paragraph shall be considered to affect any authority under section 1215 (relating to disciplinary action).
Therefore, unlike other PPPs, the Board may not order corrective action under 2302(b)(11). Legislative history does not specifically address why Congress enacted subsection 2302(e)(2). However, MSPB does have authority under VEOA and the Uniformed Services Employment and Reemployment Rights Act of 1994 (codified at 38 U.S.C. §§ 4301-4333) (USERRA) to order relief where agencies have violated various veterans' rights. Therefore additional authority to do so under 2302(b)(11) might have been viewed as unnecessary or confusing. The Board's authority to order a VEOA remedy based upon a violation of 2302(b)(11) remains an open question. See Villamarzo, 92 M.S.P.R. at 164 n. 2.
May MSPB bring action against an employee who violates 2302(b)(11)?
No. However, as with other PPPs, the Office of Special Counsel (OSC), under 5 U.S.C. § 1215(a)(1), may bring a disciplinary action against an employee for consideration by the Board. Disciplinary action can include reprimand, reduction-in-grade, suspension, removal, debarment from Federal employment for up to 5 years, and a civil penalty not to exceed $1,000. 5 U.S.C. §1215(a)(3).
Is an inadvertent violation of veterans' preference laws, rules, or regulations a PPP under 2302(b)(11)?
There is no case law on this question at present. The key is the interpretation of "knowingly." The language of the statute could be read to mean that "knowingly" refers to taking, recommending, or approving, or failing to take, recommend, or approve a tainted personnel action, whether or not the offending employee actually knew about veterans' preference laws, rules, and regulations. Cf. Special Counsel v. Ware, 114 M.S.P.R. 128, ¶ 27 (2010) (OSC need not demonstrate an employee acted knowingly in disregard of work-place political activity prohibitions to warrant removal).
However, the legislative history of 2302(b)(11) could be read to suggest that the use of the word "knowingly" in the subsection means that the PPP would be established only if a person were found to have knowingly "fail[ed] to comply with veterans' preference requirements." S. Rep. No. 105-340, at 17 (1998).
We must await future case law to know the answer to this question.
---
1 For the purpose of 5 U.S.C. § 2302, the term "veterans' preference requirement" means any of the following provisions of law:
(A) Sections 2108, 3305(b), 3309, 3310, 3311, 3312, 3313, 3314, 3315, 3316, 3317(b), 3318, 3320, 3351, 3352, 3363, 3501, 3502(b), 3504, and 4303(e) and (with respect to a preference eligible referred to in section 7511(a)(1)(B)) subchapter II of chapter 75 and section 7701.
(B) Section 943(c)(2) and 1784(c) of title 10.
(C) Section 1308(b) of Alaska National Interest Lands Conservation Act.
(D) Section 301(c) of the Foreign Service Act of 1980.
(E) Section 106(f), 7281(e), and 7802(5) of title 38.
(F) Section 1005(a) of title 39.
(G) Any other provision of law that the Director of the Office of Personnel Management designates in regulations as being a veterans' preference requirement for the purpose of this subsection.
(H) Any regulation prescribed under subsection (b) or (c) of section 1302 and any other regulation that implements a provision of law referred to in any of the preceding subparagraphs.
2 5 U.S.C. § 2302(e)(1). See Villamarzo v. Environmental Protection Agency, 92 M.S.P.R. 159 (2002).
Those who have "veterans' preference" include veterans, spouses, widows, or mothers who meet the definition of "preference eligible" in 5 U.S.C. 2108. Preference eligibles are entitled to have 5 or 10 points added to their earned score on a civil service examination (see 5 U.S.C. 3309). They are also accorded a higher retention standing in the event of a reduction in force (see 5 U.S.C. 3502). Preference does not apply, however, to in-service placement actions such as promotions. 5 C.F.R. § 211.102(c). See Lynch v. Office of Personnel Management, 115 M.S.P.R. 480 (2011).